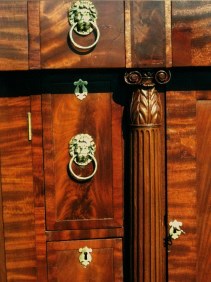 Final Touches: >
With all the repairs completed, we completely refinished the piece, being careful to match the new repairs with the colors of the older woods.
The hardware pieces were repaired or replaced, and they were carefully re-mounted on the sideboard.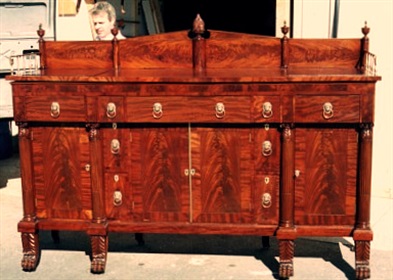 < AFTER:
And here it is....completely restored to its former beauty, fully functional, and a gorgeous enhancement to any home.
This sideboard now is a show piece at The Latimer House Museum in historic Wilmington, NC. Our attention to detail and expert craftsmanship are the reasons The Latimer House brings its furniture restoration projects exclusively to Martin Custom Woodworking and Antique Restoration.
Maybe you have a piece of wooden furniture that's been handed down in your family. Or, maybe you just found the best deal in an estate sale or friendly "junque" shop.
In any situation, we can restore your antique furniture from any period and in any state of disrepair.
Just contact us today to get a free estimate. We put the same amount of attention and craftsmanship into your project as we would for a museum piece.