At Martin Custom Woodworking and Antique Restoration
providing expert, high-quality wood furniture restoration is a four-generation family tradition. Curtis Martin is a 3rd generation furniture craftsman who began woodworking in his father's shop when he was only ten years old.
He graduated with an Industrial Engineering degree from NC State University's Furniture Manufacturing and Management program, "wanting to know everything he could about wood, from the seedling to the kiln".
Son Jacob Martin has been in the family business for a decade and plans to take over once Curtis decides to slow down. …Curtis says Jake doesn't need to make mistakes in the shop…he himself has made them all.
The Tibbles Story
(1886-1955) Edward Tibbles served as a woodworking shop apprentice in England in the 1800s. Mr. Tibbles came to America and worked for a time refinishing railroad cars before moving to Dayton, Ohio, where he began crafting exquisite trimmings for luxury cars. Edward went on to work at Stoddard Dayton Co. applying varnish to wooden automotive side panels and doors. Stoddard-Dayton was a high quality American car manufacturer in Dayton, Ohio between 1904 and 1913. Their low end vehicles were given 15 to 18 coats of paint, while the limousine models featured nearly 30. Each coat of paint was meticulously hand-sanded and rubbed. Mr. Tibbles also restored and refinished pianos. After years of perfecting his craft skills he opened his own shop in Dayton in the 1920s. A young man by the name of J.C. Martin married Mr. Tibbles' daughter and joined the family business after leaving military service. With this, J.C. Martin became the second generation of gifted furniture craftsman in the lineage.
J.C. Martin moved the business south to Greensboro, NC in 1975 and his son Curtis Martin began learning the family craft. After graduating with a degree from NC State University (1985) and a stint working for a major furniture manufacturer, Curtis partnered with Phil Barker in Greensboro, NC refinishing furniture for twelve years beginning in 1986, and moved his family of five to Wilmington NC in 1998 and began today's Martin Custom Woodworking & Antique Restoration.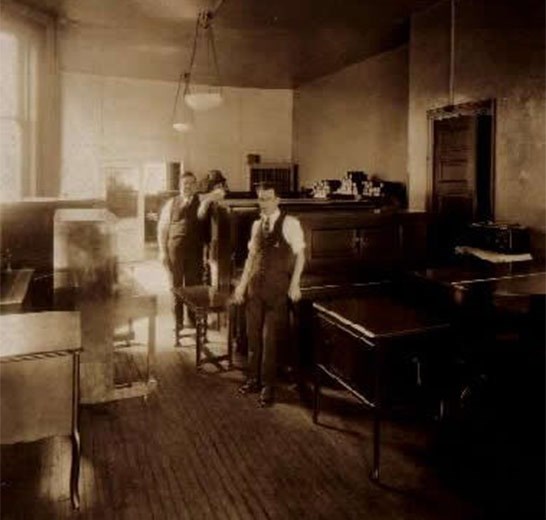 Today
Curtis's son Jacob (4th Generation) is the shop foreman and the company employs four outside of the Martins. The business began on Judges Road in 1998, seven years later moved to Merchant Court, and in 2018 to 2149 Wrightsville Avenue---a move made to better serve customers and to further plant roots for its future in the quaint Wrightsville Avenue Corridor.
From its beginnings as a rural road between Wilmington and Wrightsville Beach to the corridor we see today, Wrightsville Avenue continues to be an important part of our local heritage and a source of community pride.
Asked about the secrets of his success, Curtis points to his core values as an expert craftsman: excellent workmanship and attentive customer service.